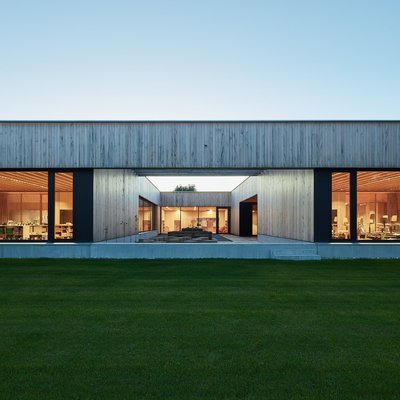 Unterdorf elementary school
The right light for exploring, discovering, and investigating
Spatial diversity and good manageability create a varied and flexible learning landscape. 
The Unterdorf elementary school in the Vorarlberg municipality of Höchst is a simple, elongated, ground-level wooden building that can accommodate 200 students. The flat school building blends harmoniously into its surroundings. The pedagogical concept is characterized by playful learning in manageable, family-like groups. Each of the four clusters has two classrooms, a group room, a rest room, and a central common room.
Daylight streams in through the skylights of the tall, wooden, truncated pyramid that crowns each common room. The numerous sight lines are also a constant invitation to use the space in the middle. A direct exit to a private garden and outdoor classroom area incorporates the outdoor space and enables short thoroughfares.
Unterdorf
elementary school
A balanced lighting mood creates positive conditions for learning
The right lighting creates optimal conditions for effective learning; it motivates and learners are more likely to concentrate for longer periods of time. A balanced lighting mood makes a decisive contribution to well-being and creates positive conditions for learning.
Light planning: Hecht Licht- und Elektroplanung
Source: Büro Dietrich | Untertrifaller Architekten