©
Friedrich Michael Jansenberger
Stephansdom Vienna
A landmark shines in a new light.
Multi-functional lighting
For the first time in its history, St. Stephen's Cathedral in Vienna has been provided with flexible, high-quality, multi-functional lighting throughout the interior. With the concept of the podpod design lighting design office, the architecture itself is illuminated for the first time - in addition to the necessary functional lighting -- allowing it to be experienced in all its dignity.
The challenge was to integrate the light sources inconspicuously with artistic sensitivity in the Gothic cathedral, thereby making the space perceptible. For this project, podpod design was awarded the Special Jury Prize at the German Lighting Design Awards 2019.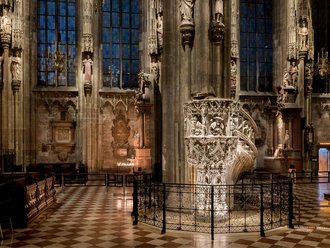 ©
Friedrich Michael Jansenberger
Wide range of lighting scenes
The lighting concept comprises several functional levels, which interact to create different light scenarios to do justice to the wide range of different uses, such as during mass, evensong, concerts, guided tours, or art installations. Artluce's scope of supply included the luminaires for the basic lighting, the ceiling illumination, and a part of the building's lighting to accentuate the altars and figurines.
The basic light forms the basis for the functional use of the cathedral. It serves for orientation and safe movement in the church and enables liturgical use by providing an appropriate level of illumination in the pews.
©
Friedrich Michael Jansenberger
The ceiling lighting creates a balance between the strong contrasts in the lighting situation during daytime and makes the room boundary surfaces recognizable upwards.
The accentuation of the altars and figurines reveals the multitude of important cathedral-related personalities. It also allows the selective emphasis of elements and themes, depending on the situation and the moment. By means of light and the appropriate control, altars can be activated for masses, or, for example, the Stations of the Cross can be made visible during the Easter season.
©
Friedrich Michael Jansenberger
Light planning: podpod design