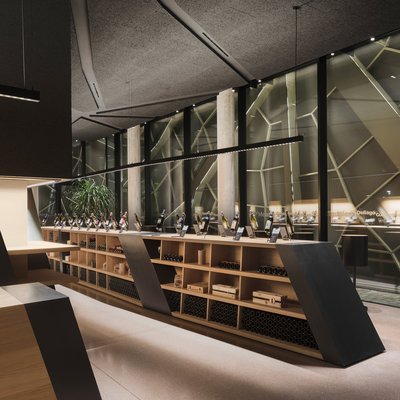 Winery Bolzano
When indulgence is the order of the day, it has to be accompanied by a good drop of wine!
A luminous cube
The new administration building of the Bolzano Winery leaves no doubt that wine is the focus here. The glass facade with its stylized vine leaves impressively points to the vine as the origin of every excellent wine - and the source of inspiration for the project.
Visible from afar and yet harmoniously integrated into the surrounding landscape, the luminous cube rises ahead of the slopes of the porphyry rocks in Bolzano. Light filters inwards through the exterior facade and mysteriously escapes from the inside out through the perforated facade at night.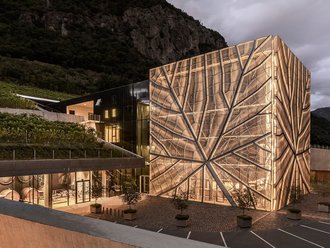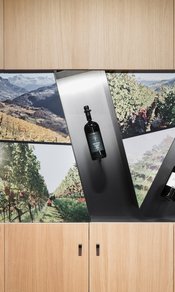 A living facade
The production facilities were moved as far as possible into the vineyard slope, making the glass cube, which glows at night in a fascinating radiance, even more the central element of the new winery.
Specially developed LED light lines with optical light control were invisibly integrated into the architecture along the branching vine leaf structure.
A three-dimensional lighting effect enchants the beholder. The dynamic programming of the driver units brings the facade to "life". It appears to the visitor as if wind were blowing through the vine leaves.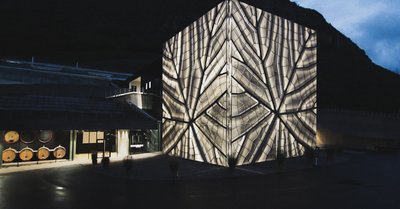 In the wine store, the focus is naturally on the wine. The light follows the vine architecture and fades completely into the background. By creating islands of light (sales areas), the visitor's attention is drawn directly to the wines without directly perceiving the light.
The wine labels are illuminated vertically with 1350 lx. The special reflectors and their arrangement allow maximum visual comfort without looking into the light source.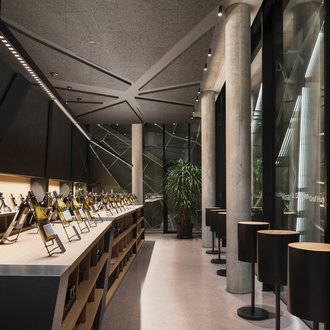 Wine in all its fascinating facets
In the small tasting room, the focus is on the diverse range of wines. Where north meets south, landscapes and cultures intermingle. This diversity is expressed not only in nature, and by the people and their wines, but also by the right light.
Bright walls and concealed luminaires tailor-made for the project put the labels of the exclusive wines in the spotlight. A line of light with special reflectors focuses on the center of each tasting.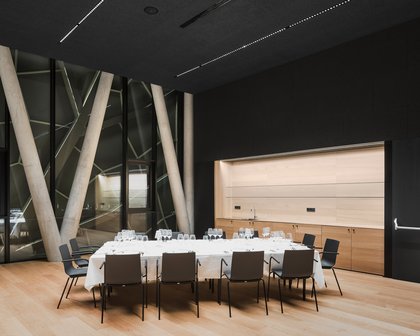 The Winery Bolzano was awarded the KlimaHaus AWARD 2019 for this innovative, groundbreaking project.
Light planning: Lichtraum²
Source: Dipl. Ing. Daniel Schiefele MLL